OUR PURPOSE Sammie's NIFTY THRIFT SHOP supports Sammie's Friends; a

501(c)3

non-profit

corporation whose mission is to provide medical care for the animals at the Nevada County Animal Shelter, making them adoptable, and to support other disadvantaged animals in Nevada County that without help would continue to suffer or would be euthanized.

(Sammie's Friends runs the Nevada County Animal Shelter 

located at 14647 McCourtney Road, Grass Valley, CA 95949)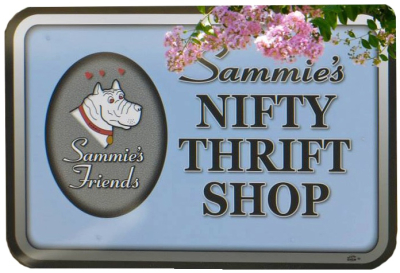 Clothing and Shoes​ We sell every kind of clothing you could want.   We always have long and short sleeve shirts, long pants, and shoes for men and women; suits for men; dresses and skirts for women.  In the summer we have racks of capris, summer tops, and swim suits.  In the winter we bring out ski wear, winter coats, jackets and sweaters.
Furniture  We get great donations of all kinds of furniture for every room in the house, along with lamps, pictures, and other smaller accessories.  We regularly pick up items after estate sales and this is a reason our furniture inventory is always full.
Household  All kinds of household items including dishes, small appliances, and just about any kind of utensil you can use in the kitchen.
Linens   Everything from blankets, sheets, pillows, table cloths, napkins and placemats.
Electronics; Pet and Garden Supplies; Jewelry; Purses and Scarves; and a whole lot more!!! .
Books, Records, CD's, DVD's, VHS's, etc.   All our books, records, CD's, etc. are sorted by genre, and separated for adults, children, etc.  We have a huge collection and two very dedicated volunteers work to keep them organized.
Toys and Crafts   Lots of great toys get donated from tinker toys, dolls, stuffed animals, electronic toys, models, puzzles, etc.  Our craft area is full of all kinds of supplies, fabric, needlepoint, yarn, etc.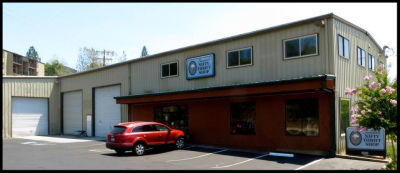 WHAT WE ACCEPT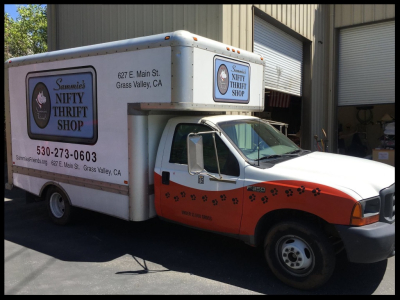 We accept almost everything as long as it is in good, saleable condition. By law we cannot accept bed pillows and mattresses. We also do not accept large appliances and console TV's.
We also must be very selective on accepting children's products and child care articles in order to stay in compliance with CPSC (Consumer Product Safety Commission) laws.
Picking Up Donations
We will pick up donations on occassion.  It takes time, money and labor on our part to offer this service so we can only do it if the donations are substantial enough to make it worthwhile for our store.
Large furniture items must be on the first floow with few stairs involved for safety reasons. We hope you understand

When We Accept Donations
Monday through Saturday between 10:00 am and 4:00 pm.